By Sunday Silver Evwierhurhoma
NFL pledges $250 million for social-justice causes
The NFL, which last week committed to do more to promote equality, pledged to donate $250 million to social-justice causes over a 10-year period. The announcement was made in a statement Thursday: "The NFL is growing our social justice efforts through a 10-year total $250 million fund to combat systemic racism and support the battle against the ongoing and historic injustices faced by African-Americans.
UK courts to fasttrack prosecutions
British courts are preparing to fast-track prosecutions for the Black Lives Matter protests, as justice secretary Robert Buckland has told magistrates to model the process along the lines of the response to rioting in London in 2011, The Times newspaper reported.
The plans made by Buckland and Interior Minister Priti Patel will lead to offenders being jailed within 24 hours of arrest to defuse disorder if they are found causing vandalism, criminal damage or assault on police officers, the report said.
8:46 will be remembered
A system "has been in place that favors some and diminishes others," said Brian Newcomb of the United Church in Kettering.
Statue critically injures protester
A protester has reportedly been left critically injured after a Confederate statue pulled down fell onto his head on Wednesday in Portsmouth.
Minneapolis police say 'this is not who we are'
More than a dozen Minneapolis police officers on Thursday condemned the former policeman charged with killing George Floyd in an open letter and said they were prepared to embrace 'change, reform and rebuilding.'
The letter, posted on the website of the Minneapolis Star-Tribune newspaper, follows weeks of protests over the death of Floyd under ex-Minneapolis police officer Derek Chauvin's knee and a vote by city leaders to disband the police department.
'We wholeheartedly condemn Derek Chauvin,' the 14 officers wrote in the letter. 'Like us, Derek Chauvin took an oath to hold the sanctity of life most precious. Derek Chauvin failed as a human and stripped George Floyd of his dignity and life. This is not who we are.'
The officers said that the sentiments expressed in their letter was broad within the Minneapolis police department.
Cuban supports former NBA writers
The fund was established by NABJ to assist both sports and non-sports journalists whose jobs have been impacted by layoffs due to the pandemic.
Cuban told CNBC the donation was to honour former sportswriters, Roger B. Brown and Martin McNeal, "two legends in the business that I had the pleasure of working with via the Mavs."
Pentagon shocked by Trump stance
President Donald Trump shocked senior Pentagon leaders on Wednesday with a series of tweets opposing the renaming of Army installations named after Confederate generals, just two days after top military leaders opened the door to doing so.
Classroom questions
"This is exactly how we feel every day," Givens said. "When you have a Black child or a Black son, that's what you're afraid of. You're afraid to put him on the bus when he goes to school because you don't know if he acts out and a cop gets called, something might happen."
NFL messages continue
"Things like that, you get numb to it," Woods said Wednesday when asked about growing up Black in Los Angeles.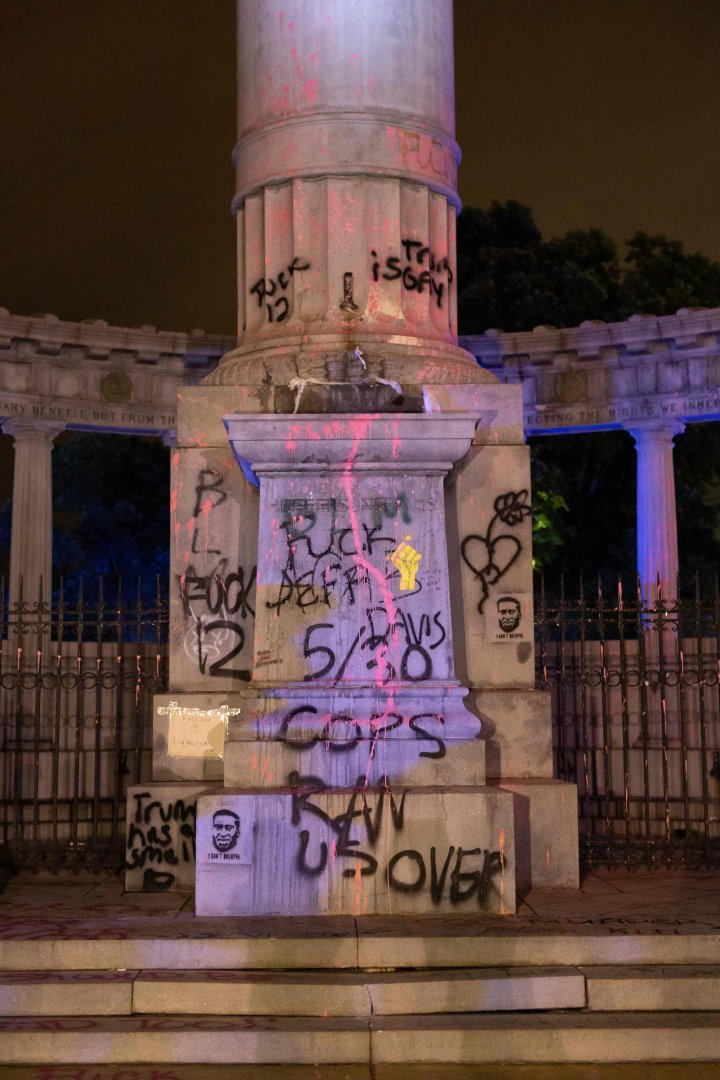 The pedestal where the statue of Confederate States President Jefferson Davis stood is full of graffiti after protesters pulled the statue down in Richmond, Virginia, on June 10, 2020. – The symbols of the Confederate States and its support for slavery are being targeted for removal following the May 25, 2020, death of George Floyd while in police custody. (Photo by Parker Michels-Boyce / AFP)